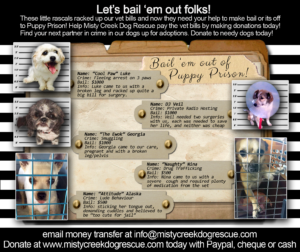 We were up to our eyeballs in debt already, but the last few weeks have been awful. Many dogs at Misty Creek Dog Rescue have needed pricey veterinary care and the bills are really racking up. Please if you can donate whatever you can spare you'll be helping these deserving dogs get the care and attention they need.
In the last couple of months Misty Creek Dog Rescue has had to treat several sick and injured dogs
And that does not include the regular costs we pay for the average dog and puppy. We have come to a point of desperation. Between the vets we use we are sitting at about $5,000 in the hole. We NEED to put a serious dent in this debt to be able to continue saving dogs.
Misty Creek is an all breed No-Kill dog rescue. Since it began operation in 1998 the people of Misty Creek, the amazing volunteers, have helped to save over 6000 dogs. Without the support of our volunteers, the wonderful  people who choose to adopt, and those who donate to us, we would not be able to survive. We are reaching out to you today in hopes that you can help us with these HUGE vet bills. We do everything we can for our dogs. Would you please consider helping us today?
Donations can be made via PayPal Secure Donation
Mail A Cheque 
P.O. Box 189
Carmangay, Alberta
T0L 0N0
Donations are also given to Misty Creek through any art pieces made by local artist Kimberlee Davis. Any inquiries or project requests can be made at her website. 
*unfortunately we are unable to provide tax receipts.

Kuranda Dog Beds Xpens, Medium to Large Dog Crates, leashes, collars, gentle leaders, no-pull harnesses, halti's.
Pedigree Dentabones, Industrial Garbage Bags, Bleach, laundry soap, plastic garbage cans, paper towel, hoses, hose sprayers, scrub brushes, surgical gloves, square shovels, brooms and totes.
In need of bales of shavings or UFA gift certificates
Contact Us if you can help.